Sponsored Links and Publicity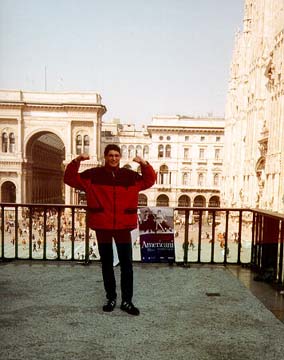 Sponsored Links and Publicity

Il giovane e grande Stefano abita a Brescia ed è uno studente dell'I.T.I.S., ovvero di una delle sue più moderne specializzazioni, il Liceo Scientifico Tecnologico ad indirizzo informatico. Tra le altre cose quest'anno si dovrebbe diplomare. Stefano dall'alto della sua statura conosce l'inglese e il francese ed è molto interessato al mondo dei motori e dell'informatica, anche se non disdegna una certa passione per la letteratura, soprattutto quella breve, aforistica e divertente. Il suo hobby preferito è quello di ascoltare musica, magari in compagnia di belle ragazze. La sua località turistica preferita è la Corsica, il suo sport più amato è il basket, e non poteva essere altrimenti, visto che Stefano è alto più di un metro e novanta. Gli animali che predilige sono i cani, mentre i suoi personaggi preferiti sono Ligabue, Max Biaggi, Michael Jordan, ALbertino, Fargetta e tanti altri. Il suo sogno nel cassetto è quello di diventare un bravo giocatore di basket e la cosa che gli da più fastidio è la falsa sapienza. Non ama particolarmente i cavolfiori. Stefano diventerà di certo un abile surfista della rete, e non appena la scuola gli lascerà un po' più di tempo libero, di sicuro sarà in grado di sviluppare e migliorare il suo sito, che in ogni caso, per un ragazzo alle prime armi, costituisce già uno sforzo di buona volontà. Forza Stefano e auguri per il tuo futuro scolastico.

Sponsored Links and Publicity

P.S. La vita è energia, non sprecatela inutilmente, costa così cara !!! C.W. Brown Per questo il Daimon Club sostiene i movimenti per il risparmio energetico www.daimon.org/ambiente !!! Inoltre poiché è consapevole che ogni essere umano è una creazione fantastica crede sia fondamentale per tutti non degradare inutilmente le nostre potenzialità, ma anzi svilupparle sempre di più, per questo ha fondato la Daimonologia, e più semplicemente ha aderito al movimento We Are What We Do !!!!

Per promuovere attivita' artistiche, sociali, ricreative o aziendali! Per incontrarsi e divertirsi in allegria sfruttando al meglio le enormi potenzialita' di internet!
To promote every sort of activity, to discover the enormous potentiality of the web and to meet new friends in a magic, exciting and amusing place.
---
VISIT AND JOIN US AT WWW.DAIMON.ORG and WWW.FORTATTACK.COM
---
Daimon Club International. It's the Surrealistic and Eclectic site of the Daimon Club Association founded by Carl William Brown. Here you can promote and divulge any sort of art, business or activity. www.facebook.com/pages/Daimon-Club-International/

If you like art, if you can write, if you love reading, if you want to promote your business, if you need to increase your popularity, and if you need some advices to earn some more money, then you should join us! Carl William Brown and The Daimon Club www.daimon.org and www.fortattack.com

We rise by lifting others. Robert Ingersoll

Ricerca personalizzata






HOME PAGE

LAST NEWS

SPONSORS

SERVIZI

ELENCO MEMBRI




---
---