Sponsored Links and Publicity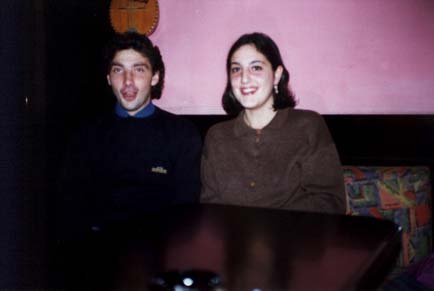 Sponsored Links and Publicity

Olga ha 21 anni, abita a Brescia e lavora come impiegata commerciale in un grosso ipermercato. Ha un diploma di scuola superiore e conosce l'inglese ed il francese. I suoi interessi principali sono ascoltare musica e fare sempre nuove amicizie. I suoi hobbies sono il canto ed il ballo. Ama molto la Grecia, le Maldive, il Brasile e l'Australia. In passato ha praticato la pallavolo. Predilige i cani, i canarini e le papere. I suoi personaggi preferiti sono Elton John e Minghi. Il suo sogno nel cassetto è quello di viaggiare sempre. Le cose che le danno più fastidio sono l'ipocrisia e i delatori.

Sponsored Links and Publicity

P.S. La vita è energia, non sprecatela inutilmente, costa così cara !!! C.W. Brown Per questo il Daimon Club sostiene i movimenti per il risparmio energetico www.daimon.org/ambiente !!! Inoltre poiché è consapevole che ogni essere umano è una creazione fantastica crede sia fondamentale per tutti non degradare inutilmente le nostre potenzialità, ma anzi svilupparle sempre di più, per questo ha fondato la Daimonologia, e più semplicemente ha aderito al movimento We Are What We Do !!!!

Per promuovere attivita' artistiche, sociali, ricreative o aziendali! Per incontrarsi e divertirsi in allegria sfruttando al meglio le enormi potenzialita' di internet!
To promote every sort of activity, to discover the enormous potentiality of the web and to meet new friends in a magic, exciting and amusing place.
---
VISIT AND JOIN US AT WWW.DAIMON.ORG and WWW.FORTATTACK.COM
---
Daimon Club International. It's the Surrealistic and Eclectic site of the Daimon Club Association founded by Carl William Brown. Here you can promote and divulge any sort of art, business or activity. www.facebook.com/pages/Daimon-Club-International/

If you like art, if you can write, if you love reading, if you want to promote your business, if you need to increase your popularity, and if you need some advices to earn some more money, then you should join us! Carl William Brown and The Daimon Club www.daimon.org and www.fortattack.com

We rise by lifting others. Robert Ingersoll

Ricerca personalizzata






HOME PAGE

LAST NEWS

SPONSORS

SERVIZI

ELENCO MEMBRI




---
---